BLANDX UPDATE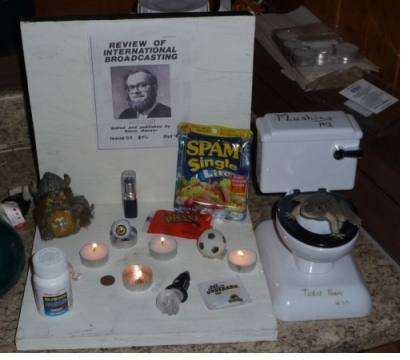 And you thought we could never top the tastelessness of last year's issue, huh?
And this is just the home page. Go ahead. Take a few antiacid tablets (you're going to need them) and close the curtains so the neighbors don't see that you're reading this garbage again. Calm your nerves and check out the new April 1, 2010 issue of BLANDX.
---
Back by popular demand from Tele-Evangelists everywhere is the heart-warming story of The Radio Family with an all-new volume four!
HIGHLY RECOMMENDED: After you're done reading BLANDX, be sure to check out this article on Using a Perseus Receiver to DX Outside Real Time . This is destined to be a DX Humor Classic.
As always, if you get tired of all this new fresh DX humor, we've also got lots of old stale DX humor in our archive of Historical DX Humor. Included are full copies of eight print editions of BLANDX, including the original July 1981 BLANDX plus some other odds and ends (with an emphasis on the word odd).
---
Want to Contribute?
At BLANDX we are always looking for good DX related humor.
Contributions can be sent to BLANDX2007@Blandx.com
---
We Don't Have A Social Disease
I know that's hard to believe, but it's true. So, how about writing something in the BLANDX Guestbook? It's downright embarassing that there are only about a dozen entries in it. You don't even have to sign your real name. (It's a lot more fun if you sign the name of some other well-known DXer!)